Maths Talent Quest is an annual activity aimed at promoting interest in mathematics and fostering positive attitudes amongst students, teachers and parents. The focus of the MTQ is on the process of mathematical investigations and relating mathematics to everyday life. As advocates for numeracy development, Casio Calculators – Australia is proud to sponsor MTQ for 2020!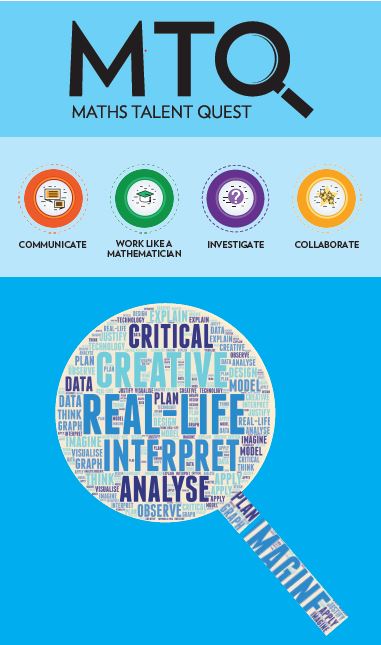 This year, the Mathematics Association of Victoria have implemented changes to ensure your students can still be involved in MTQ without requiring contact at judging and the award ceremony.
Watch a video about how MTQ will operate in 2020 here.
Please address any questions to Jen Bowden , from MAV, for any additional information about MTQ!
There will be two levels of judging:
State-wide judging
This will be limited to two entries, per category, per year level per school.
All entries must be entered in digital format.
Entries will be at a cost of $35 for members, $42.50 for non-members.
There will be no judging at La Trobe Bundoora
There will not be a State Awards Ceremony in 2020
Registrations for this will open on the 1st of June. Register here
School based judging
 The majority of judging should be held at a school level, organised by teachers at your school. This will be at NO cost to your school.
MAV will provide participating schools with Achievement Certificates (Participation, Credit, Distinction and High Distinction) templates and guidelines to awards students appropriate grades.
SOME IMPORTANT INFORMATION AND CHANGES TO THE MTQ
Check the MAV website regularly for updates.
There will be no cost for students to enter at a school level.
All participating students will receive a certificate. Templates will be sent to schools.
School may enter two entries per year level and category for the State-wide MTQ.
NATIONAL MATHEMATICS TALENT QUEST
The National Mathematics Talent Quest accepts one top entry for each category from States and Territories across Australia. For those states that do not have a local competition, schools are welcome to enter their student's investigations through the Mathematical Association of Victoria's competition.
PATHWAYS TO THE NATIONAL MATHS TALENT QUEST
All other states and territories (ACT, Tasmania, Western Australia and the Northern Territory) are welcome to enter through the Mathematical Association of Victoria's Competition.
For enquiries about the National Maths Talent Quest please email Jen Bowden.
MTQ EXAMPLES
| Prep group investigation | Year 6 individual investigation | Year 8 group investigation |
| --- | --- | --- |
| | | |